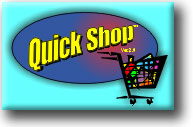 End Meal Planning Hassles Forever with this Exciting Software Product!
Makes meal planning fun. Plan an entire week's meals complete with store-ordered grocery list in under a minute. Full of features. Easy to use. Low online price. For more information and to order, click here
How does your grocery store stack up? Find out here
In a hurry? We can mail you information about Quick Shop™. Simply send an e-mail to our autoresponder.

Please check back regularly for new affiliated & sponsored sites
---
---
---

Books where you're the star!™
Your family and friends will delight in an electronic book customized with their own name! Works on standard computer - no other equipment required. Great gift idea. New bundled pricing. For more information and to order, click here
In a hurry? We can e-mail you information about mE-book™. Simply send an e-mail to our autoresponder

bfsnet.com Sponsors Small Business Consulting Services in the Following Areas: